Love is in the air! That's right, it's almost Valentine's Day. If you are not yet prepared, fear not; I have a comprehensive list of gift ideas sure to dazzle any valentine.


Women:


POMP
Flowers aren't exactly an unorthodox choice, but they are a staple for a reason. Who doesn't love flowers? I think the main thing is to choose flowers you know she loves, not just grab a generic dozen roses.
POMP Flowers
has so many gorgeous arrangements, like this fabulous "Cotton Candy" bouquet.
FlowerFix
If you want to send flowers and an experience,
FlowerFix
is the perfect choice. Their DIY Flower Classes are a fun way to design a fresh flower arrangement sure to brighten any space. Each kit is complete with all flowers and supplies needed to create your own flower masterpiece. I chose the Pink Frosting kit, and it is absolutely stunning!
Heirloom

The best gifts are the ones that are personal, have meaning, and require thought.
Heirloom video books
is all of that and more. The spirit of a photo book, but so much more unique. Heirloom lets you send a personal video to anyone, even without the means to watch it electronically. This pre charged, rechargeable book can feature photos or video, with your own audio or added background music. You can also choose the cover.
Vahdam
Though
Vahdam
has wonderful options for both men and women, I think their adorable Emily in Paris Tea Collection is the perfect blend of practicality and elegance for women of any age or relationship. This Limited Edition selection of 4 unique tea blends with dreamy (yet 100% real) ingredients is sure to make you fall in love with Paris again and again.
Good Time

You know how much I love practical gifts. What better than hair and body care that is good for you, and the planet?
Good Time
body, face, shampoo and conditioner bars are the perfect eco-friendly, travel-friendly, indulgent personal care items. The Good Time range is made with all the goodness that provides salon quality results, while evoking your favorite memories in nature, thanks to its earthy, bright and revitalizing range of delightful fragrances.And, not that I recommend this as a gift (do that at your own peril), but their
Who Gives a Crap
toilet paper is pretty darn amazing too.

Men

JACHS

Jachs NY is a leader in men's clothing. Quality, style, versatility, value, Jachs has everything. While any of their items would make a wonderful gift, I suggest a simple, yet refined staple piece, like the
Classic Waffle Crewneck
. I always opt for black unless buying multiples, but they offer it in Navy, Grey, Charcoal, and Ivory as well.
Foodies


Cookie & Candy Pop
Cookie and Candy Pop
have become one of my favorite snacks ever. It is like kettle corn to the extreme. The flavors are so fun and exciting. My favorites are Butterfinger, Nutter Butter, and Twix, but literally all of them are excellent. So sweet and perfectly crunchy; this stuff is addictive. Don't expect a bag to last beyond one sitting.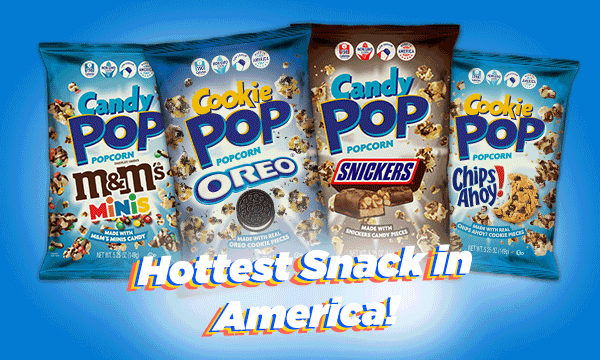 Mackenzie Limited
Blow them away with beautiful and indulgent treats from Mackenzie Limited. There are so many wonderful options, but I would most recommend the amazing
Linzer Heart Cookies
and the
Petit Fours
. Both are insanely rich, moist, and delectable.
SusieCakes
I love a good cake. It sounds simple, right? But I have actually had a hard time finding a truly good cake. Especially in classic flavors.
Susie Cakes
rose to the challenge, though, and blew my expectations out of the water. I got the Vanilla Celebration Cake, and it is so delicious! It is so rich, but not overly sweet, and it's dense, but super moist. My favorite texture. This cake is perfect!
Le Gruyère AOP

Desserts are great, but they're not everything. For a more savory experience, how about an indulgent fondue?
La Gruyère AOP
is known as 'the world's best cheese' and has the World Cheese Award to prove it. I may not be an expert on the subject (aside from routinely eating my body weight in cheese), but I would have to agree. Whether you gift the cheese in a gift basket, or prepare a fancy candlelit dinner for two, you can't go wrong with La Gruyère AOP.
Penne Straws
What do pasta lovers snack on?
Penne Straws
: the savory, crunchy snack that comes in fun pasta favors, like Mac 'N Cheese and Marinara. There is also a sweet side, with their Cinnamon Churro flavor. With Lemon Garlic and Sweet pepper rounding out the collection.